Masters of Public Policy (MPP)
With Public Health Specialization
Masters of Public Policy is designed as a hybrid course where working professionals can opt for online study mode. This is a two years course equivalent to a full master degree. With public policy at the core, public health is offered as a specialization for advanced learning and enhanced knowledge.
Public policy is a system of laws, regulatory measures, guidelines, and funding priorities identified by governments or their representatives to fulfil public interest goals. From its inception to evaluation, any public policy evolves through an iterative process. Since this process involves mobilizing many actors and resources, the resulting public policy is always an outcome of negotiating across competing interests and choices. This also means that public policies are constantly evolving.
Public health is responsible for everything from clean air and water to safe workplaces; from controlling the spread of infectious diseases and preventing chronic diseases to improving community-based nutrition; from reducing road traffic accidents to designing quality health systems and further strengthening them. Partnering with national and local governments, public health professionals respond to humanitarian emergencies, pandemics, and any other threat to population health. And while medicine is vital for each of us when we get sick, public health benefits everyone, young and old, rich and poor, healthy and unhealthy, millions at a time, and in ways that ensure health beyond what any of us alone can accomplish.
Although the history of public health is filled with important discoveries, this is a science that remains dynamic in nature and gets updated on a regular basis. Public health scientists examine familiar areas of disease, disability, and safety, as well as conditions that alter the health landscape such as technological advancement, novel infections, and environmental shifts.
The field is divided into several areas of specialty and candidates can freely build further depth based on their own interest areas and market opportunities.
MPP Focused Concentrations:
Public Policy
Urban and Rural Governance
Basic Epidemiology & Biostatistics
Environment and Occupational Health
Global policy frameworks
Disaster Risk Reduction & Climate Action
WASH, Nutrition, Health Policy Processes
Global Health Diplomacy & International Relations
Corporate Social Responsibility
Health Systems Strengthening
Research Methodology
Practice of Leadership and Management
Advanced Technical Cooperation Center:
Edward & Cynthia Institute of Public Health (ECIPH) is recognized by Yenepoya ( Deemed to be University) as an Advanced Technical Cooperation Center to support Masters of Public Health (MPH) course. Edward & Cynthia Institute of Public Health works with Governments, Diplomatic Missions, United Nations Agencies, Corporate Companies in strengthening public health risk reduction initiatives.
Program offered:
Masters of Public Policy (MPP)
Eligibility
To be eligible, Graduation in any one of the following from an institution recognized by responsible council wherever applicable and is affiliated to Yenepoya University or from any other university established under law considered equivalent thereto by Yenepoya University or UGC approved Universities in India and around the world having completed bachelors in medicine, dental, nursing, pharmacy, AYUSH, allied health sciences, Arts, Commerce, Law, Engineering, Management, journalism, sociology, biostatistics, psychology, nutrition studies, demography, anthropology, population studies or any other stream. The candidate shall have obtained permanent registration from the respective state or central council wherever applicable. The candidate shall have obtained a minimum of 50% aggregate of marks in all the years of university examination of degree course. In case of SC/ST/OBC candidates the minimum marks shall be 45%.
Degree will be provided by Yenepoya (Deemed to be University), Mangalore

For Admission Contact:
9699789383, 7619633674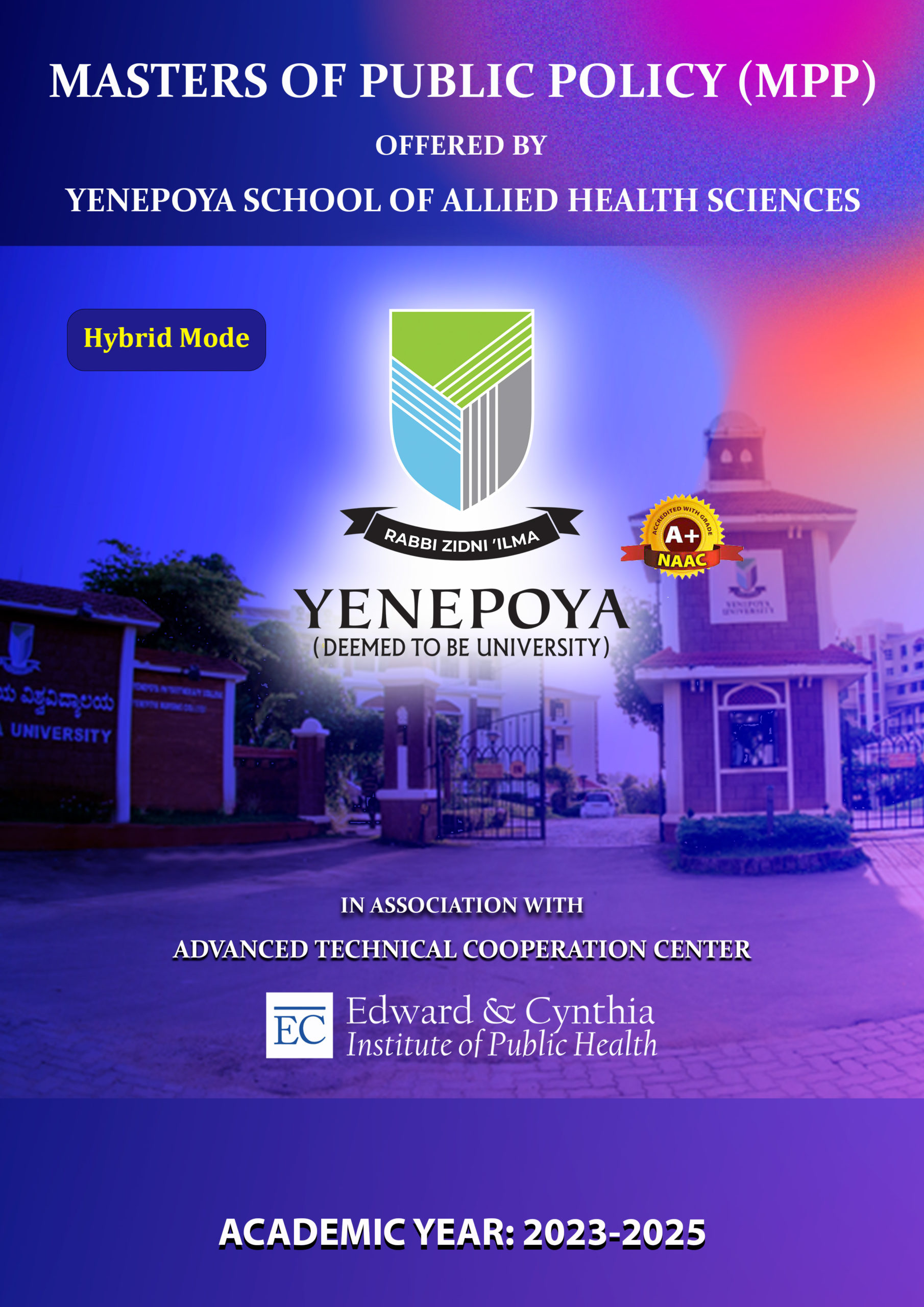 MASTERS OF PUBLIC POLICY (MPP)